Please note Playgroup is not operating in 2020 due to current Covid-19 restrictions.
An informal group that get s together on Fridays from 9:00am to 10:30am. When there is a significant event e.g. Mass playgroup will not take place.
Each session is free, however parents are asked to bring a drink and snack along for their children.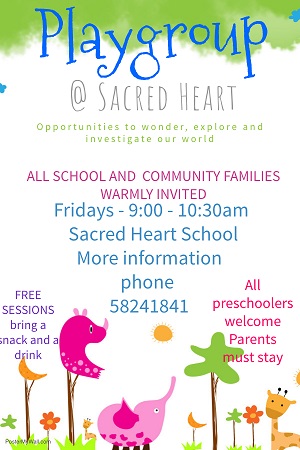 All pre-schoolers are welcome and parents are required to stay with their children.
We look forward to welcoming all families to the Sacred Heart Playgroup.
Mrs Meghan Worm has been the coordinator of Playgroup in 2019.
Contact the school office 5824 1841 for further details.
All families are welcome regardless of whether they have an association with the school or not.